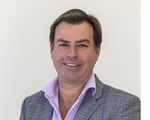 HE WORKS HARD AND HONESTLY FOR A GREAT RESULT
From the first time we met Robert he impressed us as a professional, hard working and courteous. He has a great knowledge of the area, good rapport with, and a good data base of, the right buyers which all worked for a great result. He explains everything well. Whether you are a seller or buyer he is honest and will work towards a great and happy result - and his team is excellent too.
Can't recommend him too highly.
- Garry Lilley - Penshurst