Current Interior Design Trends That Won't Date: According to the Experts

Current Interior Design Trends That Won't Date: According to the Experts
Zara McDonald Sep 28, 2018
It's inevitable that trends will date. But what about the rare few that stand the test of time?
While high-street trends can strike fear into the heart of any interior designer, there's a reason the average consumer loves them: they're easily available, often cheap and will impress your friends.
Of course, it's easy believe you are filling your home with only the most timeless of design, but the reality is, in our consistent search for the "wow" factor, trends snake their way into our homes promising to be the hero of every quiet, unassuming space.
It's inevitable that trends will date. But what about the rare few that stand the test of time?
Soft Edges
According to interior designer Meredith Lee, soft, round edges on furniture is a trend that will last.
"[For example], round mirrors, round coffee tables, rounded soft edges on furniture. It adds softness to rooms, is user-friendly for small people and classic shapes never date."

Soft edges, like ones on mirrors, won't date according to Meredith Lee. Photo: Stocksy
Natural Stone
Director of design firm Studio Gorman, Suzanne Gorman, believes on the "on-trend" use of natural stone – heavily veined and patinated – is a trend that has longevity to it.
"Stone, being a natural resource, will only ever date well," she says.
"It is difficult to imagine that a natural resource, when used well, could be considered to have dated. Stone has been central to material choice in architecture and interior design throughout the ages, used for both its unique beauty, strength and durability. When used as part of a beautifully resolved design, stone will always endure."
Meredith Lee agrees, arguing "stone with lots of texture, colouring and veins" is being "used in big volumes in bathrooms and kitchens for benchtops and splashbacks" at the moment.
"Stone has naturally developed over thousands of years and adds character, uniqueness and durability to spaces. What can be more timeless than that?" she says.
Mid Century Furniture
Interior designer Lucinda Kimpton of Kimpton Interiors believes any design element that is "on trend" will not date so long as it is "made of quality" and "placed in the appropriate architecture or environment".
"Take mid-century furniture as an example. We're seeing a lot of this at the moment and when it's placed in a space that correlates, all of a sudden it just belongs," she says.
"To assist in avoiding the dating game – pardon my pun – I also believe that one needs to bring in pieces that are not of the same design era or aesthetic.
"It's like the denim rule in fashion, there may be a minuscule moment in time where wearing head-to-toe denim is cool, but lets face it, it only works for a fleeting moment and can only be pulled off by a certain personality."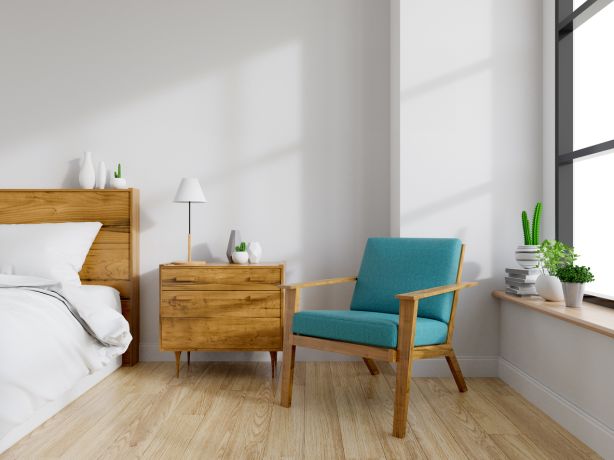 We're seeing a lot of mid-century furniture at the moment. Image: iStock
Japanese Style
Gorman believes Japanese designers and design are really having a moment right now and "can do no wrong".
"Japanese design is not just about perfection, in fact it can be quite the opposite to seemingly perfect sleek minimalism of the early 2000s or the Danish 'hygge', meaning delightfully cosy simple spaces.
"Japanese design embodies the notion of wabi-sabi – simplicity in its natural state, imperfections and all. It embraces a natural, lived-in look that celebrates natural materials such as slubbed crushed linen, weathered timbers, subtle natural colour, organic shapes and texture.
"With our world becoming increasingly hectic and chaotic, Japanese design will always endure for the relief it provides from the craziness," she says.
Recycled materials
There's nothing more on-trend right now than materials used with purpose, and Gorman is confident it will stay that way for some time.
"On trend now are any designs that embrace imaginative and innovative ways to reuse materials," Gorman says, noting the prevalence of "reconstituted or man-made timbers".
"Recycling and reuse is taking a particularly significant direction in interiors and architecture. It is the result and reality of the sheer volume of waste now produced, being a major global concern for our society. New production methods that create beautiful, tactile materials [that] embrace recycling and reuse are the responsibility for our modern life, rather than a temporary trend."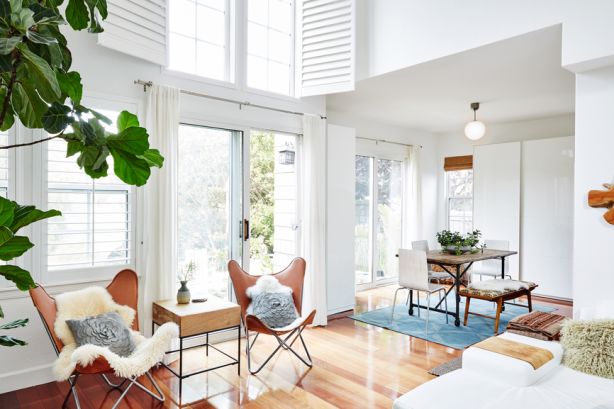 Designers are being encouraged to be innovative with materials. Image: Stocksy
Not following trends
Of course, what's trendier than not following trends at all? It's a trend that will transcend all trends, according to interior designer Camilla Molders.
"Individuality will never date," she says. "Staying away from trends and surrounding your home with things you love is the best way to avoid trends that date and costly mistakes. Design your home for you."
Kimpton agrees: "If we are referring to current interior design I believe there is a huge difference between contemporary and on trend. Contemporary design is made to suit a sustainable ethic both aesthetically and practically whereas on-trend items are a part of an ever changing space, which is then referred to landfill.